Outerwear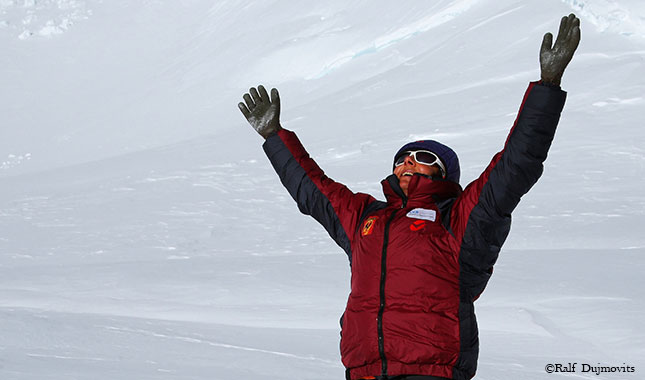 The Bifrost is Valandre's do-anything down jacket, which fits all different shapes and sizes. It combines the shape of the earlier Kiruna Jacket with the revolutionary underarm articulation of the Immelman, resulting in unparalleled freedom of movement. Put it on and swing your arms around - you'll be amazed by how mobile a jacket of this weight can be.
The collar has three separate down-filled compartments, one in the back of the neck and two in the front.This provides perfect insulation no matter whether the hood is on your head or tucked away in the built-in zip pocket. Speaking of pockets - the hand pockets are like tunnels that go all the way through to the inside of the jacket allowing your hands to burrow down inside where your body's core has already warmed the space. It is available in a right system for the EU market and left system for our American friends, which shows once again that we at Valandre pay attention to detail.
Comfort :

5°F

/

-15°C

With over 30 years of experience producing and supplying down products, our experience says -15°C (5°F) in limit of comfort.

Outside fabric :
100% Polyamide Nylon 6-6 Ripstop 50g/m2 DWR treatment
Asahi-KASEI
Inside fabric :
100% Polyester 40.8g/m2 DWR treatment
Asahi-KASEI
Compartments :

56 compartments. Straight H box wall baffles.

Down quality :
Goose Down 95/05


Filled with our 95/05 "fatty" gray goose from the South West of France. A unique and totally mature down quality, that has a fill power of 800+ cuin (EU Norms) 850+ (US Norms). A strong long lasting quality down with excellent moisture resistance.
✔

METRIC

✔

IMPERIAL
XS
S
M
L
XL
XXL
Waist
76cm 29.9in
84cm 33.1in
92cm 36.2in
100cm 39.4in
108cm 42.5in
Hip
94cm 37.0in
100cm 39.4in
106cm 41.7in
112cm 44.1in
118cm 46.5in
Chest
92cm 36.2in
100cm 39.4in
108cm 42.5in
116cm 45.7in
120cm 47.2in
Total weight
689g 1lb 8oz
735g 1lb 9oz
766g 1lb 11oz
802g 1lb 12oz
859g 1lb 14oz
896g 1lb 15oz
Down load
228g 8.0oz
240g 8.5oz
252g 8.9oz
276g 9.7oz
313g 11.0oz
330g 11.6oz