Outerwear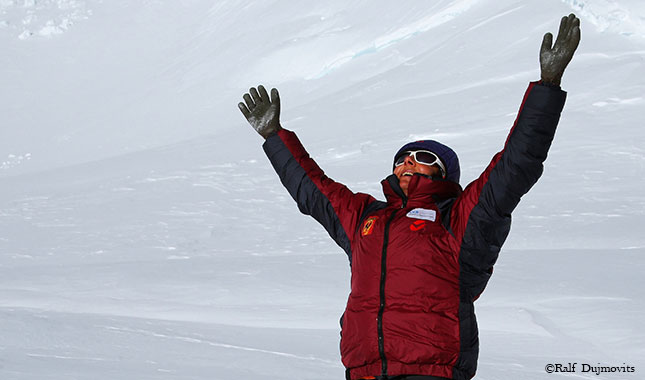 Since the creation of Valandre in 1980, the Bering jacket has been the flagship of our high altitude range. Its 32 compartment construction keeps the 17.7oz (502g) of finest down exactly where it should be. The five triangle compartments around the shoulders are "over-filled" whereas the lower part of the jacket has less density to allow more movement.
The double-front zip-system backed by a storm flap waist system and semi-elasticated draw cord in the collar offers great protection against violent winds making sure none of your precious body heat will get out! But when it gets too warm, several adjustment systems make sure your body is well ventilated.
The semi-tunnel hood is simply zipped on and by adding some Velcro to cover it up, this system is completely wind-protected. The hood also features a reinforced peak, which can be adjusted on the back of the neck.
Comfort :

-22°F

/

-30°C

With over 30 years of experience producing and supplying down products, our experience says -30°C (-22°F) in limit of comfort.

Outside fabric :
100% Polyamide Nylon 6-6 Ripstop 54.1g/m2 DWR treatment
Asahi-KASEI
Inside fabric :
100% Polyamide Nylon 6 40g/m2 DWR treatment
Asahi-KASEI
Reinforcement fabric :
100% Polyamide Nylon 6-6 Ripstop 150g/m2 DWR treatment
Asahi-KASEI
Compartments :

32 compartments (Shoulder section tri-angular). Body section rectangular. Sidley closed. Straight H box wall system.

Down quality :
Goose Down 95/05


Filled with our 95/05 "fatty" gray goose from the South West of France. A unique and totally mature down quality, that has a fill power of 800+ cuin (EU Norms) 850+ (US Norms). A strong long lasting quality down with excellent moisture resistance.
✔

METRIC

✔

IMPERIAL
S
M
L
XL
XXL
Waist
76cm 29.9in
84cm 33.1in
92cm 36.2in
100cm 39.4in
108cm 42.5in
Hip
94cm 37.0in
100cm 39.4in
106cm 41.7in
112cm 44.1in
118cm 46.5in
Chest
92cm 36.2in
100cm 39.4in
108cm 42.5in
116cm 45.7in
120cm 47.2in
Total weight
1.14kg 2lb 8oz
1.19kg 2lb 9oz
1.25kg 2lb 11oz
1.29kg 2lb 13oz
1.33kg 2lb 14oz
Down load
472g 1lb 0oz
502g 1lb 1oz
535g 1lb 2oz
562g 1lb 3oz
592g 1lb 4oz