Outerwear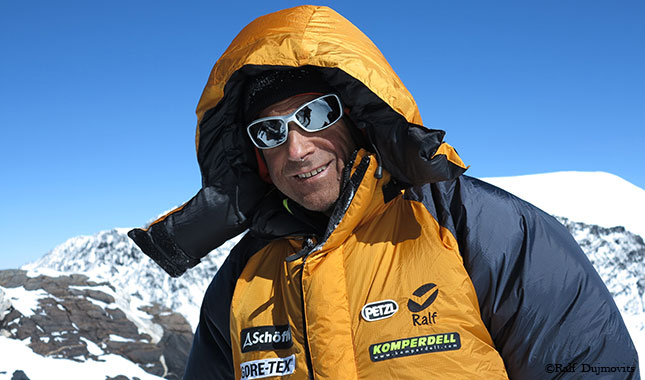 Combining the technical know-how of Valandre with the best down in the world, this suit will keep you warm even on the highest and coldest mountains in the world. It is fully sealed and protects you against the wind,featuring internal gaitersthat easily slip over your climbing boots; a detachable, fully-adjustable and stiffened semi-tunnel hood that is attached to the suit with both zipper and Velcro for maximum wind protection; as well as a completely sealed drop seat that - as opposed to the curved zipper designs - opens up easily with two straight zippers. An external Velcro-sealed fabric flap protects the zippers from freezing and keeps the wind out. As far as storage is concerned, the suit has an inside and an outside zip-up pocket as well as one 3D pocket on the right leg.
Another great advantage of this high altitude piece of kit is that it is totally articulated allowing completely free use of arms and legs, which can come in handy for technical difficult routes high up.
Comfort :

-31°F

/

-35°C

With over 30 years of experience producing and supplying down products, our experience says -35°C (-31°F) in limit of comfort.

Outside fabric :
100% Polyamide Nylon 6-6 Ripstop 54.1g/m2 DWR treatment
Asahi-KASEI
Inside fabric :
100% Polyamide Nylon 6 40g/m2 DWR treatment
Asahi-KASEI
Reinforcement fabric :
100% Polyamide Nylon 6-6 Ripstop 150g/m2 DWR treatment
Asahi-KASEI
Compartments :

32 compartments. Shoulder part tri-angular shaped. 3 inner leg compartments.Straight H box wall baffles.

Down quality :
Goose Down 95/05


Filled with our 95/05 "fatty" gray goose from the South West of France. A unique and totally mature down quality, that has a fill power of 800+ cuin (EU Norms) 850+ (US Norms). A strong long lasting quality down with excellent moisture resistance.
✔

METRIC

✔

IMPERIAL
S
M
L
XL
XXL
Waist
76cm 29.9in
84cm 33.1in
92cm 36.2in
100cm 39.4in
108cm 42.5in
Hip
94cm 37.0in
100cm 39.4in
106cm 41.7in
112cm 44.1in
118cm 46.5in
Chest
92cm 36.2in
100cm 39.4in
108cm 42.5in
116cm 45.7in
120cm 47.2in
Total weight
1.52kg 3lb 5oz
1.59kg 3lb 8oz
1.64kg 3lb 9oz
1.72kg 3lb 12oz
1.78kg 3lb 14oz
Down load
556g 1lb 3oz
588g 1lb 4oz
613g 1lb 5oz
647g 1lb 6oz
672g 1lb 7oz
Customer reviews | Post a review
one of the best down suit....une des meilleures combis...confort, chaleur, et même très belle en bleu et noir. manque une poche sur les manches et une 2éme sur la jambe....