Outerwear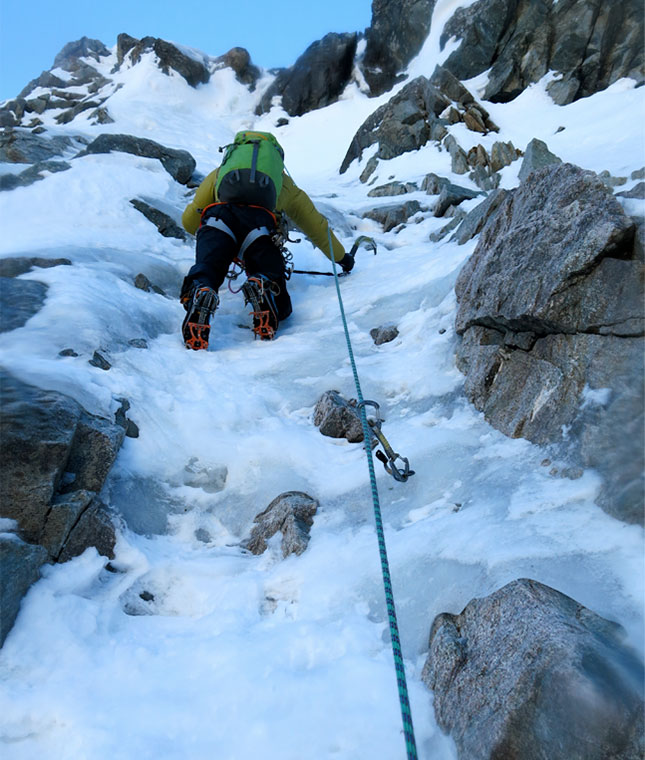 Third price winner of the European Outdoor Award in 2014, the fully articulated Immelman down jacket is designed for technical climbing in cold conditions. It certainly understands the necessity of free and easy arm movement during such undertakings.
With its 350 grams down fill, the 2nd generation of this jacket is a bit warmer than its predecessor, however, it still allows layering that need articulation. Its main pockets are efficient hand warmers featuring a tunnel design through which the hands can traverse the down layer and get right next to the body, where it's warmest. The thumb loops stored in the cuffs facilitate the cumbersome task of taking on and off gloves or mittens, but can be easily hidden again if they are in your way.
The Immelman also features a traditional zip-on down-filled hood, which is fully-adjustable and seals off the head perfectly. The two non-down filled triangles under the hood and a sewn-in zipper make it easy to take off your hood. Itstwo-way zipperis a no-snag system offering precise body temperature control and efficient insulation. For our EU users, the zippers are available in a left system; for our American users we use a right system.
Comfort :

-13°F

/

-25°C

With over 30 years of experience producing and supplying down products, our experience says -25°C (-13°F) in limit of comfort.

Outside fabric :
100% Polyamide Nylon 6-6 Ripstop 50g/m2 DWR treatment
Asahi-KASEI
Inside fabric :
100% Polyamide Nylon 6 40g/m2 DWR treatment
Asahi-KASEI
Compartments :

57 compartments. Straight H box wall baffels

Down quality :
Goose Down 95/05


Filled with our 95/05 "fatty" gray goose from the South West of France. A unique and totally mature down quality, that has a fill power of 800+ cuin (EU Norms) 850+ (US Norms). A strong long lasting quality down with excellent moisture resistance.
✔

METRIC

✔

IMPERIAL
XS
S
M
L
XL
XXL
Waist
76cm 29.9in
84cm 33.1in
92cm 36.2in
100cm 39.4in
108cm 42.5in
Hip
94cm 37.0in
100cm 39.4in
106cm 41.7in
112cm 44.1in
118cm 46.5in
Chest
92cm 36.2in
100cm 39.4in
108cm 42.5in
116cm 45.7in
120cm 47.2in
Total weight
924g 2lb 0oz
969g 2lb 2oz
1.00kg 2lb 3oz
1.05kg 2lb 4oz
1.10kg 2lb 6oz
1.14kg 2lb 8oz
Down load
306g 10.8oz
329g 11.6oz
354g 12.5oz
373g 13.2oz
396g 14.0oz
419g 14.8oz