sleeping bags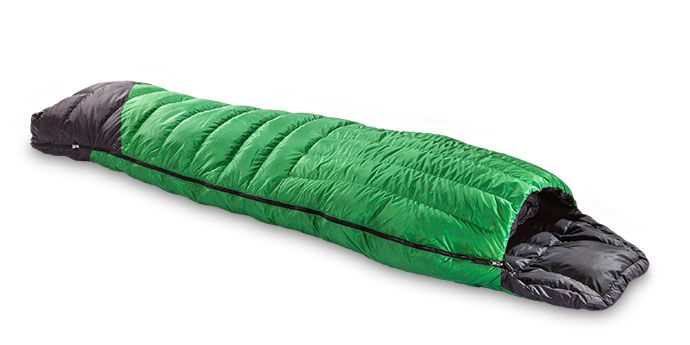 For those who are familiar with the "expedition obsession" of Valandre, you will be surprised by this summer bag in the well-know colors of green grass. It's precisely for those who love to hop and roll around in the high grass in the countryside, spend a night in the lower hills, or join in on a campsite next to the lake, that we have dedicate the Grasshopper.
Skeptics be assured 400 grams of our Pyrenean French duck (total weight 885 grams), which allows you to confront early frosty morning temperatures (-3C/35F) in the spring or fall without any problem. To avoid down shift in a "blanket formed" bag, where you roll around inside, the compartment in the body section are placed vertically and the hood can be tightened down if needed. As a comfortable rectangular bag, it can be transformed into a luxury quit, capable of confronting any challenge in the high, high grass!
EN13537:2012 test results PDF
Extreme :

-6°F

/

-21.4°C

Limit of comfort :

25°F

/

-4.3°C

Comfort :

34°F

/

1.3°C

With over 30 years of experience producing and supplying down products, our experience says -5°C (23°F) in limit of comfort.
Outside fabric :
100% Polyamide Nylon 6-6 Ripstop 38.7g/m2 DWR treatment
Asahi-KASEI
Inside fabric :
100% Polyamide Nylon 6 40g/m2 DWR treatment
Asahi-KASEI
Compartments :

38 compartments, mounted using straight H box walls.

Down quality :
Duck Down 90/10


Filled with our 90/10 "fatty" gray duck from the South West of France. A unique and totally mature down quality, that have a filling power of 650+ cuin (EU Norms) 700+ (US Norms). A strong long lasting quality down with excellent moisture resistance.
✔

METRIC

✔

IMPERIAL
S
M
L
Length(out)
200cm 78.7in
215cm 84.6in
230cm 90.6in
Length(in)
170cm 66.9in
185cm 72.8in
200cm 78.7in
Shoulder
154cm 60.6in
164cm 64.6in
164cm 64.6in
Hip
134cm 52.8in
145cm 57.1in
146cm 57.5in
Foot
128cm 50.4in
137cm 53.9in
141cm 55.5in
Compressed Volume

6.0 L

366 in3

6.5 L

396 in3

7.0 L

427 in3
Total weight
780g 1lb 11oz
885g 1lb 15oz
953g 2lb 1oz
Down load
336g 11.9oz
400g 14.1oz
430g 15.2oz