sleeping bags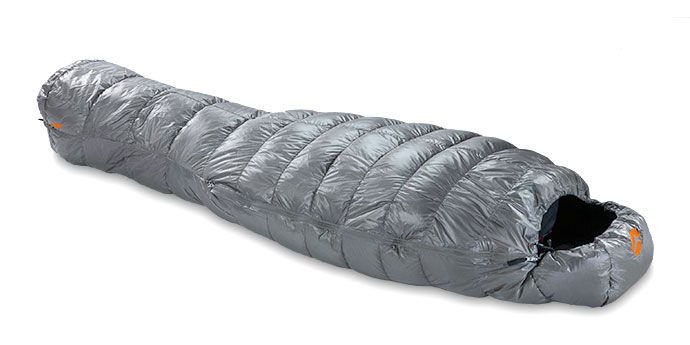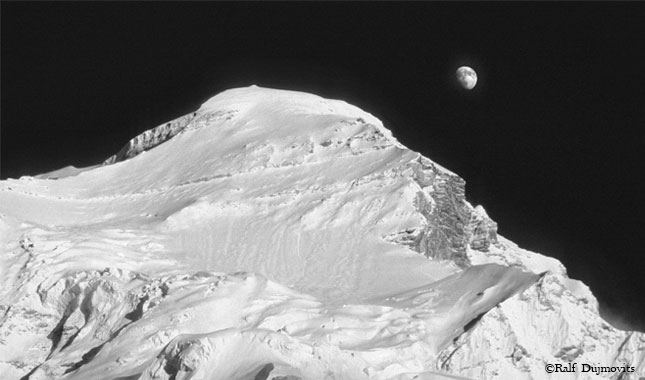 This incredible lightweight bag combines the tubular bell system with pre-cut anatomically formed baffles and ultra-light Asahi-Kasei Impact 66 rip-stop polyamide 40.7g/m2 fabric. With this miraculous potion, the Mirage keeps its loft even at the loftiest heights.
The 12.9oz (365 g) fill of 800+ cu in (EU) goose down keeps you snuggly warm in temperatures as low as -1C (31F), and its tiny pack size of a mere 4.8 litres (26.3oz/773g total) makes it the perfect bag to take up to a high camp on your way to the top. The secret of the Mirage's success is that it only touches the upper body and has no contact with either your feet or legs: it simply hovers above them creating a vacuum that embraces the heat emanating from your body.
EN13537:2012 test results PDF
Extreme :

-9°F

/

-23.2°C

Limit of comfort :

22°F

/

-5.7°C

Comfort :

32°F

/

0.1°C

With over 30 years of experience producing and supplying down products, our experience says -5°C (23°F) in limit of comfort.
Outside fabric :
100% Polyamide Nylon 6-6 Ripstop 40.7g/m2 DWR treatment
Asahi-KASEI
Inside fabric :
100% Polyamide Nylon 6 40g/m2 DWR treatment
Asahi-KASEI
Compartments :

16 continuous compartments, mounted using Valandre's second generation tubular technology of H-box wall pre-cut and anatomical shaped baffles.

Down quality :
Goose Down 95/05


Filled with our 95/05 "fatty" gray goose from the South West of France. A unique and totally mature down quality, that has a fill power of 800+ cuin (EU Norms) 850+ (US Norms). A strong long lasting quality down with excellent moisture resistance.
✔

METRIC

✔

IMPERIAL
S
M
L
Length(out)
200cm 78.7in
215cm 84.6in
230cm 90.6in
Length(in)
170cm 66.9in
185cm 72.8in
200cm 78.7in
Shoulder
145cm 57.1in
158cm 62.2in
170cm 66.9in
Hip
123cm 48.4in
135cm 53.1in
147cm 57.9in
Foot
87cm 34.3in
95cm 37.4in
101cm 39.8in
Compressed Volume

4.5 L

274 in3

4.8 L

292 in3

5.0 L

305 in3
Total weight
698g 1lb 8oz
773g 1lb 11oz
843g 1lb 13oz
Down load
338g 11.9oz
365g 12.9oz
393g 13.9oz
Customer reviews | Post a review
I purchased a Mirage 3/4 and have used it almost every month for over a year. I debated on a quilt, but opted for a bag. The Mirage has been excellent. Its optimal temperature range for me has been 35-65 degrees. The goose down baffles elevate as your body heat warms them up, so the bag feels almost weightless. The nylon fabric is also very soft and comfortable. The footbox contours to your feet, which is brilliant. The bag will unzip almost down to your knees, so on warmer nights I will unzip it, flipped it over and used it like a blanket. Between 30-40 degrees I slept with some layers on and stayed warm. The bag has no draft collar, so I lost heat in the low-30's and had to really cinch it down. It's roomy enough to accommodate sleeping with a down jacket on if needed. The Mirage has been a great sleeping bag and is light and versatile for any temperature above freezing.
The Mirage is an amazing piece of work when it comes to sleeping bags. I received one of the first Mirage bags made to test for Valandre! I put it thru its paces back packing in Utah's High Uintah's and the Wind River Range during spring through fall! I admit when I first saw this bag I had my doubt\'s as it was so light weight? However it is big on performance and endurance! I found the Mirage to be very roomy and very comfortable to sleep in as its materials create a comfortable environment inside the bag. The mirage doesn't smother you rather it just floats above your body and this is a unique experience! The Mirage will cut serious weight from your load as well as save you space and will not let you down when you need it most!
When I received my Mirage from ProLite Gear, It was so lightweight I thought they shipped the wrong bag. After spending a night in sub freezing temperature with no tent or shelter, I completely trust this bag. It fits my body like a glove and the body heat retention is remarkable, given the bags weight. I'm completely sold on Valandre products! Keep up the good work.
I used the Mirage on a three day climb of the Cassin Ridge. Initially I was hesitant to take such a light bag on such a big and committing route, but the bag performed flawlessly. The warmth to weight ration was just was I was looking for to keep our pack light and us moving fast on the route. Our last bivy at 17800 feet clocked a nighttime temp of -10 degrees F. Combined with all my insulating layers, the bag was perfect for this application. It has become my go to bag for everything from summer backpacking to winter alpine bivies. I love this bag!
My Mirage 3/4 zip bag far exceeded my expectations duting a 2 week backpack trip in New Mexico. Our trip peaked at 12,460' and we hiked through alpine and arid areas. Nighttime temps ranged from low 30's to low 90s. The sleeping bag packed small, carried light, and was comfortable. 3/4 zipper was a real bonus. Incredible quality.