sleeping bags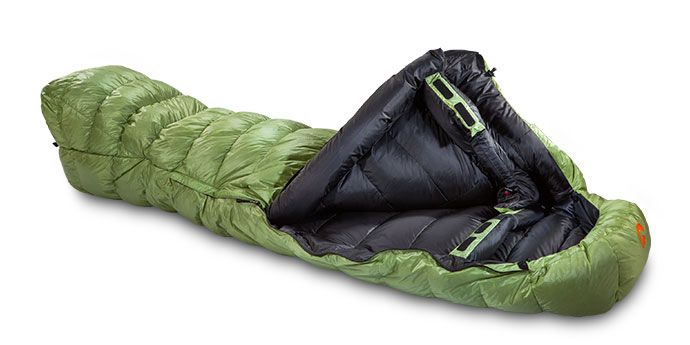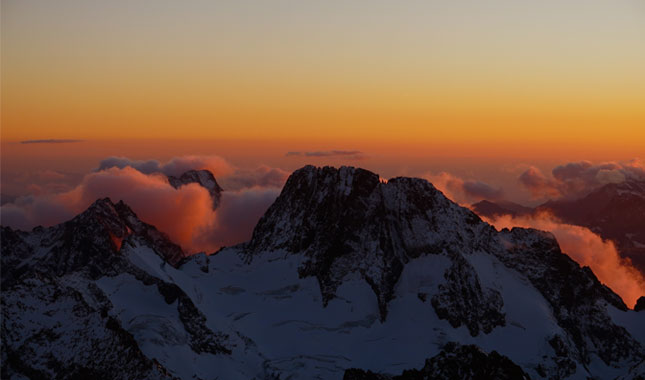 Designed for extremely low temperatures at high altitude, the Odin Neo brings warmth and comfort to the climbers, allowing them save energy during the night and gather strength for the next day.
At 1,650g the Neo is 10 percent lighter than its predecessor but without having to make any compromises with the quality. It's the opposite really: the bag is better isolated and protected offering a genius inside volume, which avoids compressing the down membrane, and hence cold spots. The static draw-cord cinches the Odin's hood over your forehead tightly to optimize isolation so warmth can't escape. The draft collar compensates for different lengths needed to protect your shoulders, neck, and throat and keeps you toasty from head to toes.
Valandré Odin Neo is basically a Shocking Blue, which has been in excellent service for many years. If you have ever tried the Shocking Blue just imagine that we have simply "super-sized" it for the Odin Neo: we kept the inside dimensions and volume and increased all baffle heights and down load by 30 percent. It's yet another warm Valandré bag for extreme and cold altitudes.
Comfort :

-22°F

/

-30°C

Outside fabric :
100% Polyamide Nylon 6-6 Ripstop 40.7g/m2 DWR treatment
Asahi-KASEI
Inside fabric :
100% Polyamide Nylon 6 40g/m2 DWR treatment
Asahi-KASEI
Compartments :

32 compartments (top and bottom separated), mounted using the second generation tubular technology of H-box wall pre-cut and shaped anatomical shaped baffles.

Down quality :
Goose Down 95/05


Filled with our 95/05 "fatty" gray goose from the South West of France. A unique and totally mature down quality, that has a fill power of 800+ cuin (EU Norms) 850+ (US Norms). A strong long lasting quality down with excellent moisture resistance.
✔

METRIC

✔

IMPERIAL
S
M
L
Length(out)
200cm 78.7in
215cm 84.6in
230cm 90.6in
Length(in)
170cm 66.9in
185cm 72.8in
200cm 78.7in
Shoulder
143cm 56.3in
153cm 60.2in
164cm 64.6in
Hip
131cm 51.6in
140cm 55.1in
150cm 59.1in
Foot
87cm 34.3in
93cm 36.6in
99cm 39.0in
Compressed Volume

13.5 L

823 in3

14.0 L

854 in3

14.5 L

884 in3
Total weight
1.55kg 3lb 6oz
1.63kg 3lb 9oz
1.78kg 3lb 14oz
Down load
963g 2lb 1oz
1.03kg 2lb 4oz
1.11kg 2lb 7oz
Customer reviews | Post a review
No joke. This bag is absolutely superb. It feels and looks like a quality high dollar bag. It's roomy, packs down just slightly bigger than my kelty 20° bag that really should be rated more for about 40° F. I've slept in this bag a little below zero degrees. I want to say it was negative 4 F but can't remember for sure. I had one layer on and it has always kept me super warm. I have left it open like a blanket and slept in it at about 45° and as comfortable. If I got warm I'd adjust it. It repels water very very well. The exterior fabric reminds me very much of my silnylon tarp. Honestly I'm confident you could put a water hose to it and I doubt you'd get wet. Water just runs of it. I had a water bottle drain onto it once in my Jeep and it was completely dry inside after being soaked on my entire 12 hour work shift. The neck baffling system takes a little getting used to on how to operate properly. It does do an incredible job at synching you up and keeping warmth in and cold out. I'm not sure that it's really all that necessary though with a well made neck baffle system. It's probably a little overkill and tedious than it needs to be. This bag is well worth the money. I like it more than my Western Mountaineering Antelope. Which is also another fantastic bag for the money. Oh one mods thing. I've never been a fan of being so constricted in mummy bags because I'm a side and stomach sleeper and when I'm on my side I like to hike one knee up. I do have enough room in this medium bag that I went with to get my knee up far enough to be comfortable. I'm short but very broad shouldered and stocky. I'm 5'6 and 180 pounds and have plenty of room in the medium.