sleeping bags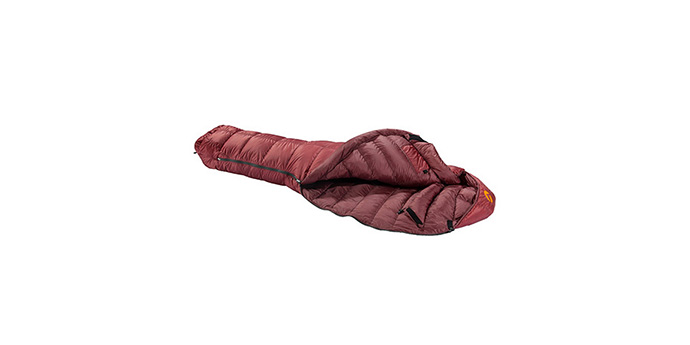 Ugly duckling? Certainly not! The SWING 500 NEO is proof that duck down must not be frowned upon: it's definitely sufficient to keep the dweller of this two-season bag comfortably warm at temperatures down to 20°F (-5C). Other warming features of this golden bag are a high quality zipper, fabric, craftsmanship and a basic baffle system.
Come to think of it – with its well-designed foot box, semi-elastic draft collar and tailored hoodin combination with a 3/4 Thermarest and professional base layer, the SWING 500 NEO can actually be used at temperatures as low as 20°F (-5C). And if you want to take it even further, just wrap up in the Bifrost down jacket and stay toastie in 14°F (-10°C).
EN13537:2012 test results PDF
Extreme :

-9°F

/

-23.2°C

Limit of comfort :

22°F

/

-5.7°C

Comfort :

32°F

/

0.1°C

With over 30 years of experience producing and supplying down products, our experience says -5°C (23°F) in limit of comfort.
Outside fabric :
100% Polyamide Nylon 6 Micro-Ripstop 40g/m2 DWR treatment
Asahi-KASEI
Inside fabric :
100% Polyamide Nylon 6 40g/m2 DWR treatment
Asahi-KASEI
Compartments :

17 compartments, mounted using straight H box walls.

Down quality :
Duck Down 90/10


Filled with our 90/10 "fatty" gray duck from the South West of France. A unique and totally mature down quality, that have a filling power of 650+ cuin (EU Norms) 700+ (US Norms). A strong long lasting quality down with excellent moisture resistance.
✔

METRIC

✔

IMPERIAL
S
M
L
Length(out)
200cm 78.7in
215cm 84.6in
230cm 90.6in
Length(in)
170cm 66.9in
185cm 72.8in
200cm 78.7in
Shoulder
163cm 64.2in
168cm 66.1in
173cm 68.1in
Hip
140cm 55.1in
145cm 57.1in
150cm 59.1in
Foot
98cm 38.6in
103cm 40.6in
108cm 42.5in
Compressed Volume

6.0 L

366 in3

6.5 L

396 in3

7.0 L

427 in3
Total weight
865g 1lb 14oz
937g 2lb 1oz
1.00kg 2lb 3oz
Down load
465g 1lb 0oz
500g 1lb 1oz
534g 1lb 2oz