sleeping bags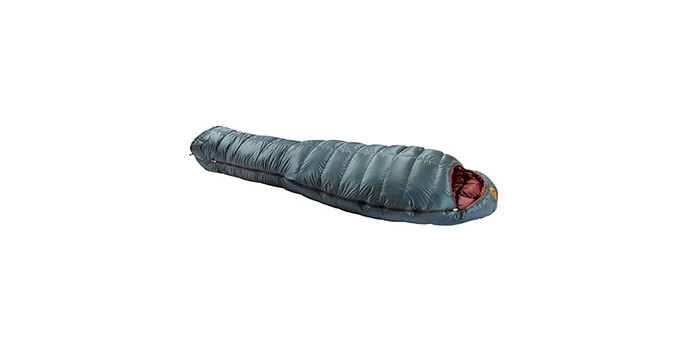 Just like the SWING 500 NEO, the 700 is a great 3-season-bag for outdoor-novices looking for durability, quality and comfort at an affordable price; as long as they don't mind wrapping up in duck down as opposed to goose down. However, the down used in the SWING seriesis high-end as it is from the famous Pyrenean duck, which is born and bred in France.
The outer shell consists of Asahi-KASEI Polyamide rip stop (40g/m²) while the inside is made of a Polyester (40g/m²). The baffles use tuck stitches, which penetrate both layers of the material and are very durable. Zipped up tightly, the hood and collar don't allow any warm air to escape when sleeping in cold temperatures while the bag offers excellent ventilation in warmer temperatures. The raised foot compartment offers maximum warmth and due to its airy construction, you can still layer up without compressing the down membrane.
EN13537:2012 test results PDF
Extreme :

-22°F

/

-30.3°C

Limit of comfort :

13°F

/

-10.8°C

Comfort :

25°F

/

-4.2°C

With over 30 years of experience producing and supplying down products, our experience says -15°C (5°F) in limit of comfort.
Outside fabric :
100% Polyamide Nylon 6 Micro-Ripstop 40g/m2 DWR treatment
Asahi-KASEI
Inside fabric :
100% Polyamide Nylon 6 40g/m2 DWR treatment
Asahi-KASEI
Compartments :

17 compartments, mounted using straight H box walls.

Down quality :
Duck Down 90/10


Filled with our 90/10 "fatty" gray duck from the South West of France. A unique and totally mature down quality, that have a filling power of 650+ cuin (EU Norms) 700+ (US Norms). A strong long lasting quality down with excellent moisture resistance.
✔

METRIC

✔

IMPERIAL
S
M
L
Length(out)
200cm 78.7in
215cm 84.6in
230cm 90.6in
Length(in)
170cm 66.9in
185cm 72.8in
200cm 78.7in
Shoulder
163cm 64.2in
168cm 66.1in
173cm 68.1in
Hip
140cm 55.1in
145cm 57.1in
150cm 59.1in
Foot
98cm 38.6in
103cm 40.6in
108cm 42.5in
Compressed Volume

8.0 L

488 in3

8.5 L

518 in3

9.0 L

549 in3
Total weight
1.07kg 2lb 5oz
1.16kg 2lb 8oz
1.23kg 2lb 11oz
Down load
654g 1lb 7oz
700g 1lb 8oz
746g 1lb 10oz