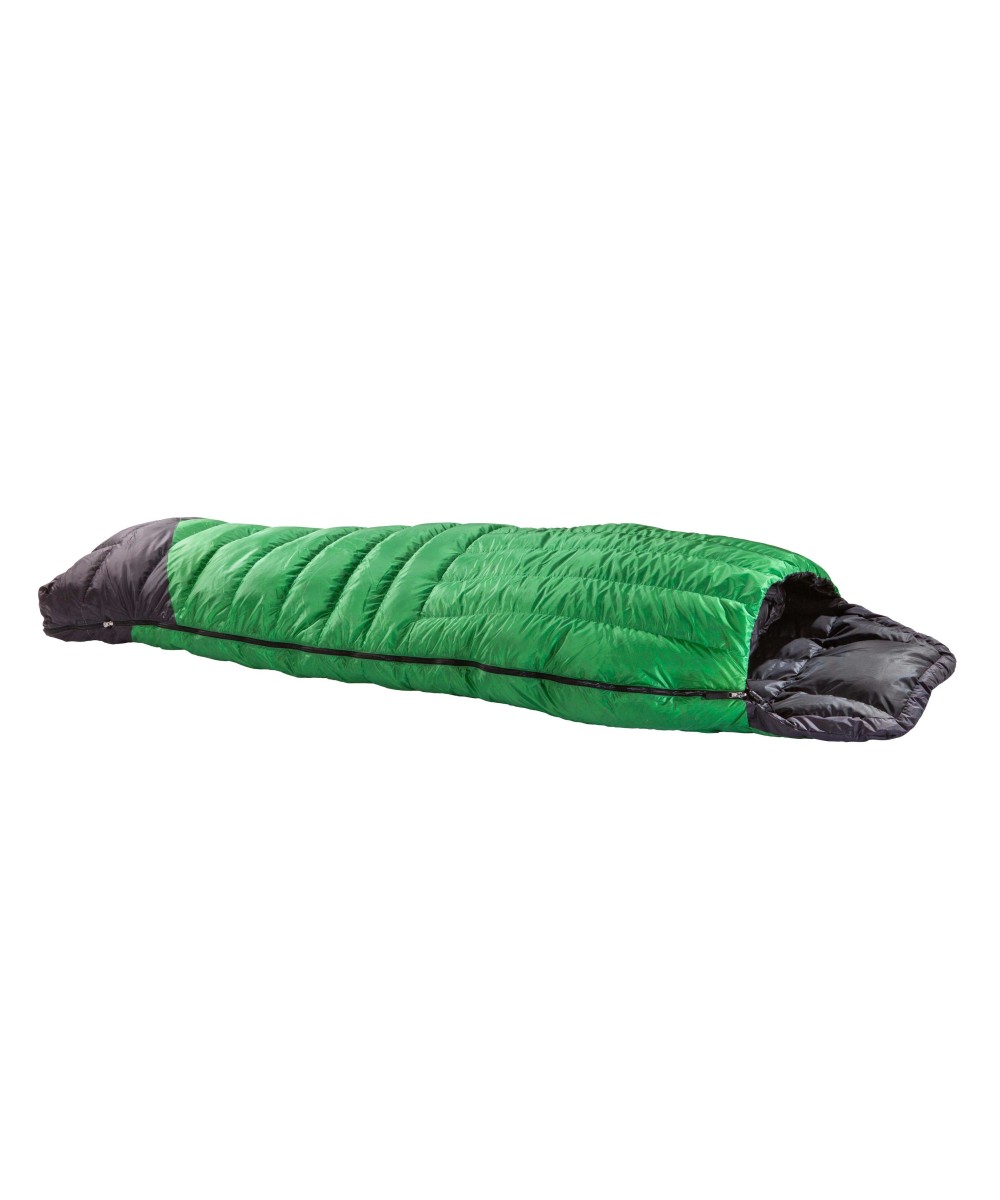  
Grasshopper
-5°C/ 23°F
38 individual baffles.
Hood waist adjustment system.
2 Non-snag zip system.
Zipper backed with internal reinforcement and down-filled storm flap.
Storage pocket.
For those who are familiar with the "expedition obsession" of Valandre, you will be surprised by this summer bag in the well-know colors of green grass. It's precisely for those who love to hop and roll around in the high grass in the countryside, spend a night in the lower hills, or join in on a campsite next to the lake, that we have dedicate the Grasshopper.
Skeptics be assured 400 grams of our Pyrenean French duck (total weight 852 grams), which allows you to confront early frosty morning temperatures (-3C/35F) in the spring or fall without any problem. To avoid down shift in a "blanket formed" bag, where you roll around inside, the compartment in the body section are placed vertically and the hood can be tightened down if needed. As a comfortable rectangular bag, it can be transformed into a luxury quit, capable of confronting any challenge in the high, high grass!
650SD
Temp test results
Valandre T. LIMIT OF COMFORT:
-5°C / 23°F
T. COMFORT:
1.3°C / 34.34°F
T. LIMIT OF COMFORT:
-4.3°C / 24.26°F
T. EXTREME:
-21.4°C / -6.52°F
Down Quality
Down Quality:
Duck Down 90/10
Baffle:
38 compartments. mounted using straight H box walls.
Lining:
100% Polyamide Nylon 6 40g/m² DWR treatment
Shell:
100% Polyamide Nylon 6-6 Ripstop 38.7g/m² DWR treatment
Customers who bought this product also bought:
9 other products in the same category: