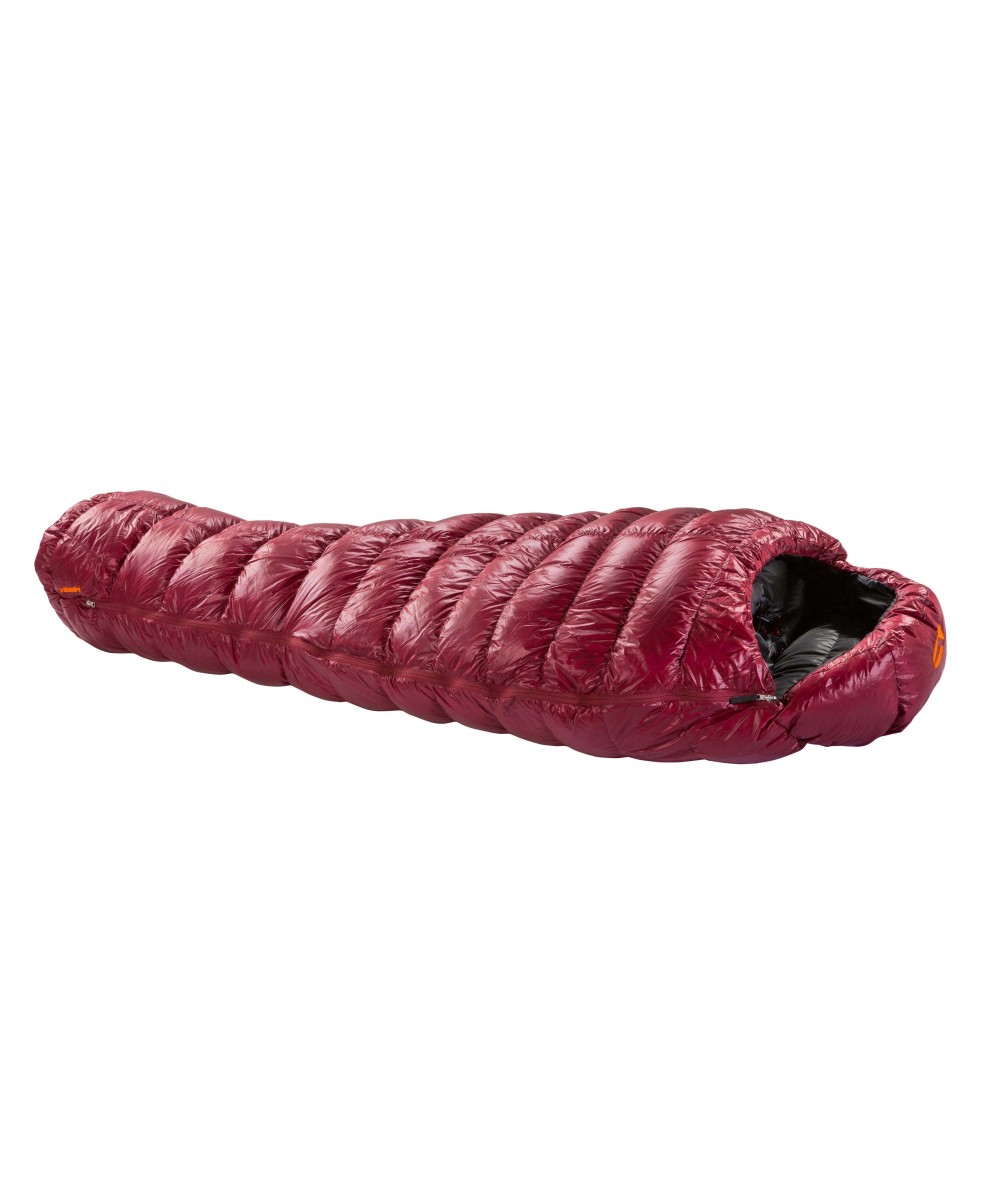  
Bloody Mary
-15°C/ 5°F
18 pre-cut baffles, 100% anatomical shape.
Tubular cut.
Zip-in draft collar system:

A full "Marie Antoinette" collar.
A half "Marie Antoinette" collar.
Without collar.

Anatomic feet (trapezoid form).
Zipper backed with internal reinforcement and down-filled storm flap.
Storage pocket.
Winner of the 2009 outdoor industry gold award, this three-season sleeping bag offers all of Valandré's finest features: the comfortable tubular bell construction, the interchangeable collar system, and filled with its high-end down from the French Fat Grey Goose. One of the highlights of this light and versatile bag is its three different levels of thermal protection offering the user to choose between 2lbs 8,4oz/1145g, 2lbs 5,85oz/1073g or 2lbs 4,7oz/1040g for really warm temperatures.
Following Valandré's design of the tubular bell construction, the bag consists of 83 individually cut panels and baffles that are perfectly tailored to fit around the body. Once filled with Valandré's high-end down, the compartments will lift off your body, providing the best warmth-to-weight ratio in the industry.
645SD
Temp test results
Valandre T. LIMIT OF COMFORT:
-15°C / 5°F
T. COMFORT:
-5.4°C / 22.28°F
T. LIMIT OF COMFORT:
-12.2°C / 10.04°F
T. EXTREME:
-32.2°C / -25.96°F
Down Quality
Down Quality:
Goose Down 95/05
Baffle:
18 continuous compartments. using Valandre's second generation tubular technology of H-box wall pre-cut and anatomical shaped baffles.
Lining:
100% Polyamide Nylon 6 40g/m² DWR treatment
Shell:
100% Polyamide Nylon 6-6 Ripstop 40.7g/m² DWR treatment
Customers who bought this product also bought:
9 other products in the same category: