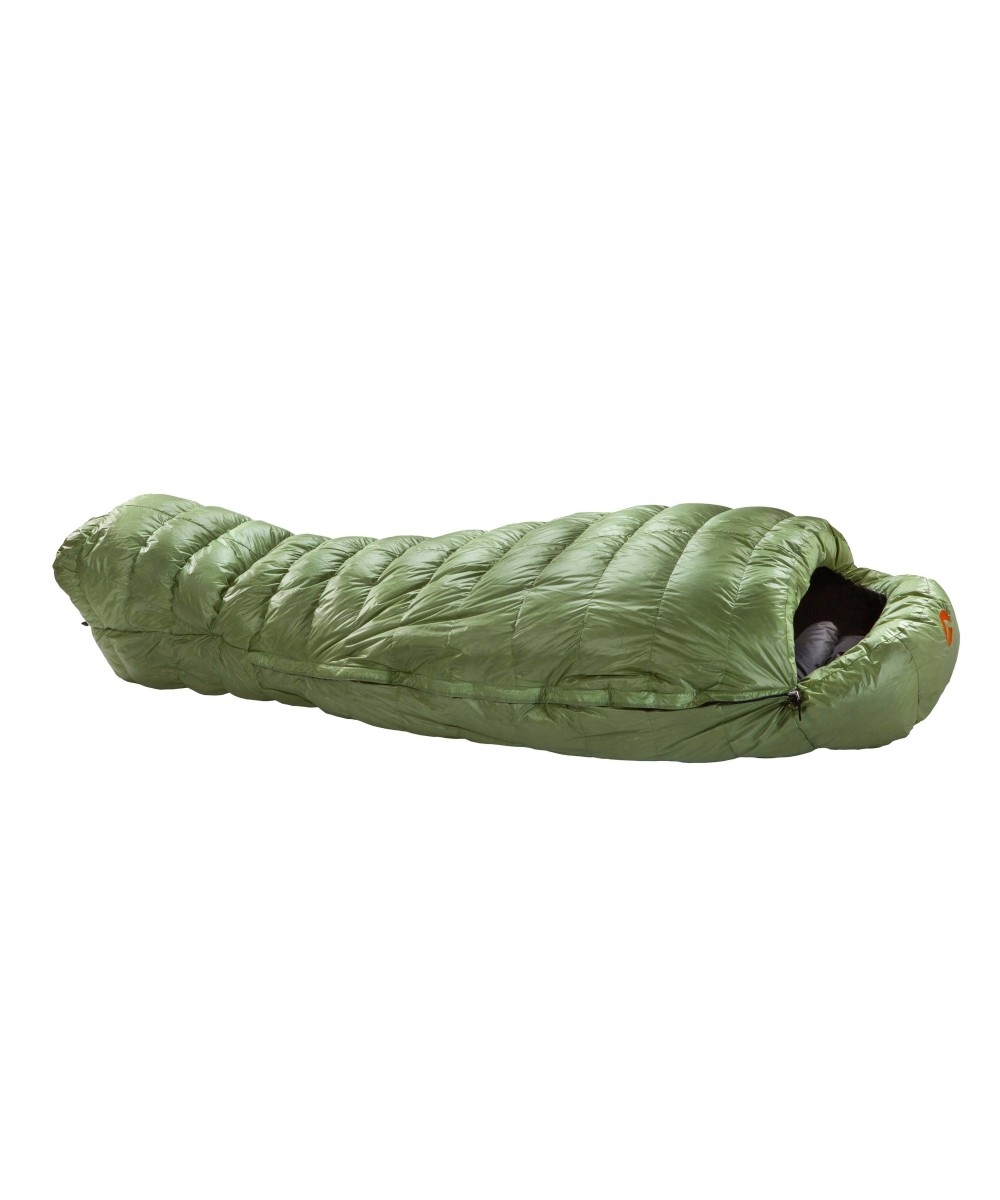  
Odin NEO
-30°C/ -22°F
32 pre-cut baffles, 100% anatomical shape.
Tubular cut.
Zippered Marie Antoinette styled collar.
Zipper backed with internal reinforcement and down-filled storm flap.
Anti cold outer flap along the zip.
Anatomic feet (trapezoid form).
Designed for extremely low temperatures at high altitude, the Odin Neo brings warmth and comfort to the climbers, allowing them save energy during the night and gather strength for the next day.
At 1,650g the Neo is 10 percent lighter than its predecessor but without having to make any compromises with the quality. It's the opposite really: the bag is better isolated and protected offering a genius inside volume, which avoids compressing the down membrane, and hence cold spots. The static draw-cord cinches the Odin's hood over your forehead tightly to optimize isolation so warmth can't escape. The draft collar compensates for different lengths needed to protect your shoulders, neck, and throat and keeps you toasty from head to toes.
Valandré Odin Neo is basically a Shocking Blue, which has been in excellent service for many years. If you have ever tried the Shocking Blue just imagine that we have simply 'super-sized' it for the Odin Neo: we kept the inside dimensions and volume and increased all baffle heights and down load by 30 percent. It's yet another warm Valandré bag for extreme and cold altitudes.
638NSD
Temp test results
Valandre T. LIMIT OF COMFORT:
-30°C / -22°F
Down Quality
Down Quality:
Goose Down 95/05
Baffle:
32 compartments (top and bottom separated). mounted using the second generation tubular technology of H-box wall pre-cut and shaped anatomical shaped baffles.
Lining:
100% Polyamide Nylon 6 40g/m² DWR treatment
Shell:
100% Polyamide Nylon 6-6 Ripstop 40.7g/m² DWR treatment
Customers who bought this product also bought:
9 other products in the same category: